FERRIS BUELLER'S DAY OFF
John Hughes, 1986. Teen movie. USA.
Ou
La Folle Journée de Ferris Bueller
. J'ai adoré ce
teen movie
qui est apparemment
culte
aux Etats-Unis. L'acteur principal joue terriblement bien son rôle d'
ado
nonchalant
et
confiant
, tout comme les autres personnages, et le tout est très bien
filmé
et
cadencé
: on ne s'ennuie jamais.
Je n'avais pas autant
ri
devant un film depuis longtemps !
I loved this cult teen movie, very funny and well played ! Musics and filming are very cool, you never get bored. The main actor is perfect in his role of a casual and confident teenager.
Rian Johnson, 2005. Drame / film d'enquête. USA.
Un adolescent asocial, en décrochage scolaire, mène l'enquête sur la mort de son ex petite-amie, jeune fille instable tombée dans la drogue. Un film fascinant, trépidant, que j'ai trouvé très esthétique et dynamique dans sa construction.
Seul bémol : malgré les sous-titres (en anglais), j'ai eu beaucoup de mal à comprendre les dialogues car les personnages parlaient très vite et le vocabulaire était propre au monde de la drogue ': )
An antisocial adolescent, dropping out of school, leads its own investigation on the death of his ex-girlfriend who had fallen into drugs. I enjoyed this captivating, frantic film. I was also very fond of the esthetic and the dynamic construction.
DEADPOOL
Tim Miller, 2016. Film de super-héros. USA.
J'ai vu peu de films de super héros, car cet univers ne m'attire pas particulièrement, mais j'ai finalement apprécié
Deadpool
. A la fois
tendre
et
sarcastique
, cet
anti-héros
est
attachant
et
drôle
. Et comme tous les films du genre, je suppose, celui-ci ne manque pas d'
action
!
I haven't seen a lot of super-heroe movies, cause I'm not a fan of this universe, but I quite appreciated
Deadpool
. Funny and sweet, this anti-hero is at the meantime
tender
and
sarcastic
. And like all the films of the genre, I guess, it doesn't lack of action !
UN MONSTRUO DE MIL CABEZAS
Rodrigo Paz, 2015.
Thriller
. Mexique.
Un Monstre à Mille Têtes
, qualifié de "
thriller social
", raconte la chute d'une femme dont le mari, gravement
malade
, ne peut recevoir de traitement à cause d'une boîte d'
assurances
sans scrupules. Son
désespoir
et sa
colère
vont lui faire perdre contrôle de la situation.
Un scénario qui me faisait envie, malheureusement, je n'ai pas ressenti d'émotions fortes dans ce film qui démarre peut-être
trop rapidement
, sans laisser la pression monter pour le spectateur, et qui manque, je trouve, d'une bande-son qui aurait pu accompagner la progression du stress.
De plus, la fin m'a laissée sur ma faim !
I was a bit disappointed by this "social thriller" which maybe gets into the action too abruptly without letting time for emotions to emerge and lacks of a nagging or stressing soundtrack. The end was also frustrating. It's too bad because the plot was of real interest to me.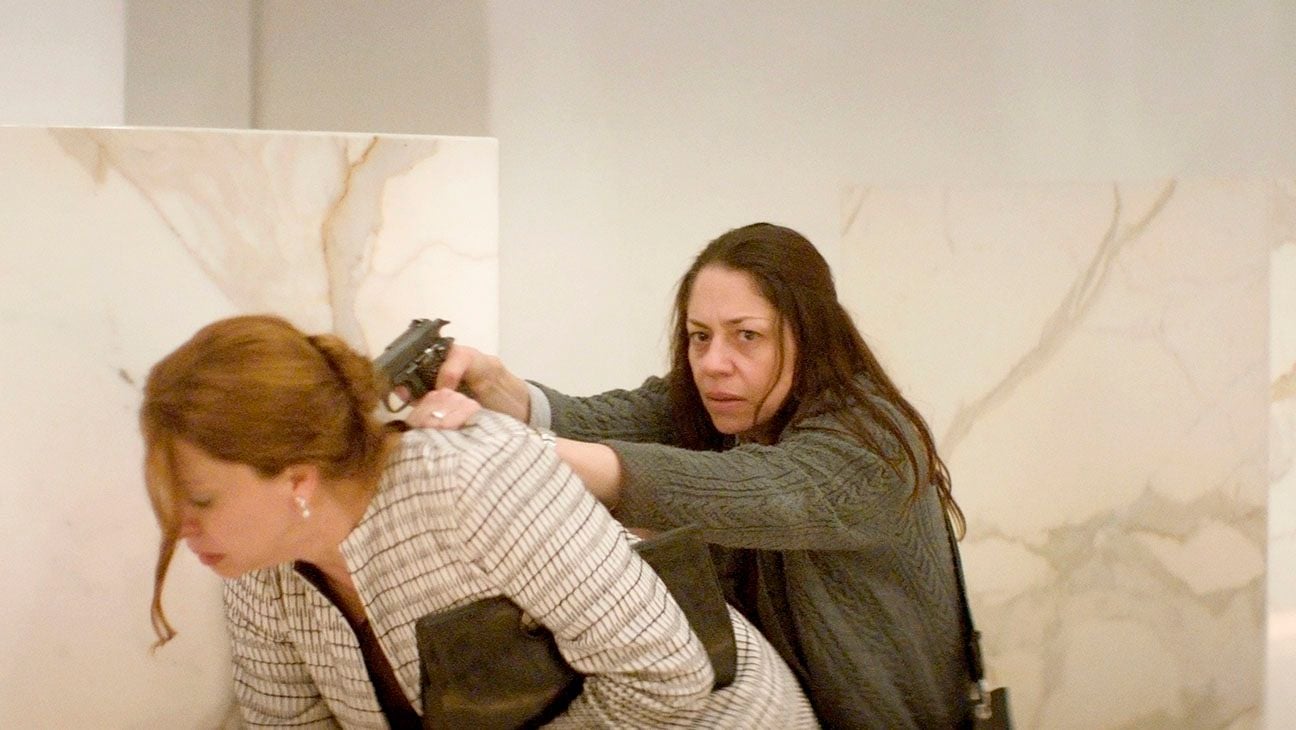 L'ILLUSIONNISTE
Sylvain Chomet, 2010.
Film d'animation
-
Drame
. France - UK
U
n film d'animation qui aurait seulement pu être très
beau
et
émouvant
s'il n'avait pas été aussi
déprimant
! Basé sur un scénario de
Jacques Tati
, qui voulait le dédier à sa fille, délaissée par son père pendant longtemps, on se demande bien quelle est la
morale
de l'histoire.
Dans les
années 50
, un
magicien
dont les tours n'impressionnent plus personne se voit obliger de quitter Paris pour
Edimbourg
. Il rencontre une fille à qui j'ai eu du mal à attribuer un âge (15 ans ? 30 ans ?) mais qui rappelle
Lolita
par son côté
égoïste
et
capricieux
.
Le sujet du film est très intéressant mais malheureusement, on en ressort abattu...
This animated film would just had been beautiful and moving if it had not been so depressing ! Based on a original Jacques Tati's script, who wanted to dedicate it to his long time neglected daughter, I actually wonder where is the moral of the story.
During the 50's, rock n' roll is more successful than magic tricks, which causes our main character, an illusionist, to leave Paris for Edimburg. He meets a girl whose age I hardly could give (15 ? 30 ? that changes the nature of their relationship...) but who certainly reminded of Lolita, through her capricious and selfish character.