♫ Beyonce - I Was Here ♪
O
n se retrouve pour une nouvelle sélection des derniers films que j'ai vus. J'ai du mal à ne pas parler des films que j'ai le moins appréciés car je leur trouve toujours quelque chose d'intéressant ou alors je voulais tellement les aimer que je tiens tout de même à les partager avec vous ;)
Comme d'habitude, j'attends vos retours et vos suggestions !
DIRTY HARRY
Don Siegel, 1971. Crime film.
The most badass inspector of San Francisco (maybe in the whole world ?) tries to catch a very creepy serial killer proudly handling his 44 Magnum.
"Do ya feel lucky punk ?"
L'
inspecteur
le plus
badass
de
San Francisco
(du monde entier ?) tente d'attraper un
tueur en série
bien flippant en maniant son
Magnum 44
avec fierté et adresse.
J'ai adoré.
SPLIT
M. Night Shyamalan, 2017.
Thriller. USA.
Un thriller à la limite de l'horreur qui met la pression, qui intrigue, qui fait sursauter, qui fait rire nerveusement, qui met mal à l'aise... Que du bonheur haha ! Le sujet des personnalités multiples est très intéressant et apporte, à mon sens, de la vraisemblance. J'ai seulement trouvé la fin un peu extrême et trop fantastique à mon goût (je tiens trop au réalisme !), mais cela ne m'empêchera pas de regarder la suite qui sortira prochainement.
I surprisingly loved this horror thriller film which... thrilled me to the bones !
Though the end seemed a bit over-the-top and too fantastic to me, I liked the credibility of the plot caused by the split personality theme, which was interesting and brilliantly played by James McAvoy.
LES LIAISONS DANGEREUSES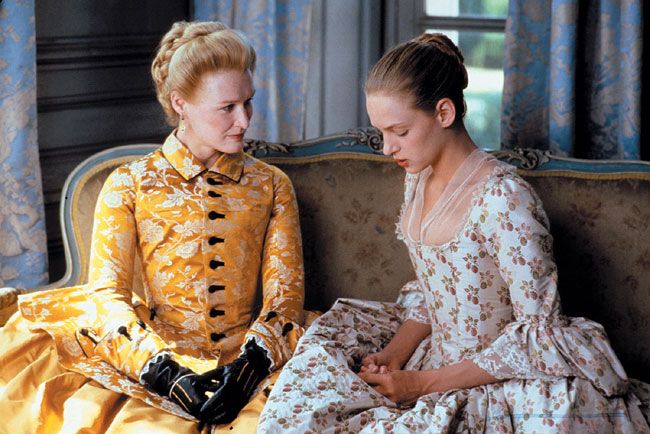 Stephen Frears, 1988. Drame. USA-UK.
Après avoir dévoré le roman épistolaire écrit par Choderlos de Laclos, j'ai vibré et pleuré devant cette fidèle adaptation dépeignant les odieuses manigances de deux aristocrates libertins.
La fidélité d'une adaptation m'importe beaucoup, et j'étais tout de même déçue par le choix de Glenn Close pour le rôle de la Marquise de Merteuil : je trouve cette actrice totalement antipathique et ses traits durs ne correspondaient pas à l'image que je m'étais faite du personnage. Mais c'est purement subjectif et ce n'est pas très gentil pour Glenn ': ) Heureusement, j'adore Uma Thurman et Michelle Pfeiffer !
Les décors et les costumes étaient splendides et rendaient le film encore plus envoûtant !
After I devoured the espistolary novel written by Choderlos de Laclos, I trembled and cried while watching this faithful adaptation telling the hideous schemes of two debauched aristocrats.
I care a lot about faithfulness when novels are adaptated into films - the only disappointing point was the choice of Glenn Close for the Marquise de Merteuil's role. I find her very unattractive and her face didn't match with the picture I had made of this character. But this is purely subjective and quite mean for poor Glenn ! Hopefully I love Uma Thurman & Michelle Pfeiffer.
Scenery and costumes were spendids, what added to the charm of this moving film.
EL CRIMEN FERPECTO
Alex de la Iglesia, 2004. Comédie noire. Espagne.

Un scénario loufoque mais très prenant avec de très bons acteurs et beaucoup d'humour !

A quite weird plot but very funny ! The actors are great too.



Lorene Scarfacia, 2016. Comédie. USA.
Une maman veuve depuis peu vient vivre près de sa fille, réalisatrice très occupée par son travail, qui la repousse et s'en exaspère. Cette maman est du genre à se mêler de tout, dire oui à tout, s'inquiéter d'un rien et ne sait pas très bien se servir de son portable tactile. J'ai apprécié regarder ce film à la guimauve qui m'a attendrie et bien fait rire même s'il traînait un peu à la fin !
I enjoyed this corny comedy about a widow mother meddling with everyone's problems in a touching and funny way and trying to get closer from her workaholic daughter.

Un scénario vraiment chouette, malheureusement le jeu d'acteur n'est pas toujours juste et le film reste lent et un peu déprimant tout le long... Je m'attendais à plus d'humour, plus de rebondissements et de vivacité, dommage ! Point positif : la beauté et l'intérêt des plans.

The plot is really cool but the acting is sometimes off and the film stays slow and a bit depressing all along... I was expecting more humour, more plot twists and more action in general ! One positive point was the interest and the beauty of the shots.